Last year was a very special year for Wales McLelland. We strengthened our commitment to health and safety in year two of a global pandemic. We had our most successful year of project volume within a thriving building market. And, on top of that, we celebrated 50 years of business in commercial, industrial, and institutional construction.
To reach 50 is a feat for any business in any industry, but to achieve this within our sector is a testament to our pursuit of project excellence and in our ability to build meaningful, long-term client relationships.
Before we advance into our 51st year of construction, we want to take a moment to reflect on 2021 to acknowledge how our commitment to each other, our craft, our industry, and our clients has enhanced operations, produced project wins, and influenced opportunities for 2022.
What We Accomplished in 2021
We Emerged as a Stronger Team Throughout the Pandemic
COVID-19 changed the way construction sites were managed. It put a huge emphasis on safety management, systems, and supply chains, requiring increased hygiene measures without impacting project delivery and timelines. We faced this challenge head-on by communicating and adapting how we forecasted and managed personnel and materials, how we worked with our trade partners to mitigate project delays, and how we delivered our construction services without interruption. By rallying around enhanced safety measures, our teams were empowered to perform safely and efficiently, contributing to our most successful year to date in terms of total square footage completed, under construction, and under contract.
We Focused our Operations on Continuous Improvement
Our operational and office staff increased communication with our site safety management teams, improving how quickly we can adapt to new challenges while mitigating schedule impacts. With this increased visibility and intelligence on the status of our projects, we made immediate adjustments to our sequencing of materials and coordinating of personnel, ensuring we met all timelines and schedules.
We Enhanced Our Already Industry-Leading Health & Safety Management Program
With a COR Certified Occupational Health & Safety (OHS) Program already in place, we advanced our commitment to workplace safety by implementing a Wellness and Mental Health Program. This program promotes an open and honest workplace culture and encourages dialogue between team members that need support. The past two years, more than any other we've experienced, have challenged how we all connect. We're proud to lead our industry by expanding safety initiatives to include employee well-being and look forward to dedicating more time for each other and our industry partners in the coming year to establish trusted lines of communication.
Key Projects Completed in 2021
Daiya Foods – Phase 2
As a sequel to the 400,000 square food production, distribution, and storage facility for Daiya Foods in Burnaby, we completed a phase two 56,600 square foot tenant fit-out in 2021. This renewed space enhances Daiya's operation to include new R&D, Food Test, and Sensory Kitchens in addition to new head office space.
Just as they've led the plant-based food industry, Daiya also leads sustainability by taking actions to reduce their ecological footprint. As a result, we worked with Daiya to take steps toward their environmental goals by building their renewed office space to LEED Certification Standards.
IntraUrban Crossroads
Wales McLelland completed the pre-construction, site preparation, and building construction services for PC Urban's latest multi-building strata development in one of the fastest-growing areas in Surrey, BC. This development consists of up to 43 units across three (3) buildings, over a net site area of just under seven (7) acres. This project also included new municipal road construction and SPEA habitat enhancement works.
Grubner Centre
As the latest addition to Langley's Gloucester Business Park, the Grubner Centre was designed as a multi-tenant industrial development but adapted to the needs of the sole occupier, Amazon. The building features a loading bay with six (6) dock levelers and four (4) drive-in ramps, high bay lighting, ESFR sprinklers, and 32-feet of ceiling clearance. We worked directly with Amazon on tenant improvements to accommodate more personnel space, including an 8,000 SF mezzanine and more than 100,000 SF dedicated to office space, work stations, training rooms, breakrooms, washrooms, and locker rooms. Mechanical and electrical upgrades in the warehouse area included new roof-top units, make-up air units, exhaust fans, and ceiling fans.
Tech Company Office Hub
Wales McLelland completed a building improvement and tenant fit-out for one of Vancouver's leading tech companies. Located in the heart of downtown, the scope of work spanned five (5) full floors of premium high-rise space and included upgrades to mechanical and electrical systems, security systems, and communications systems. Our team also worked seven days a week to implement state-of-the-art IT and outfit all creative workspaces with high-end finishing.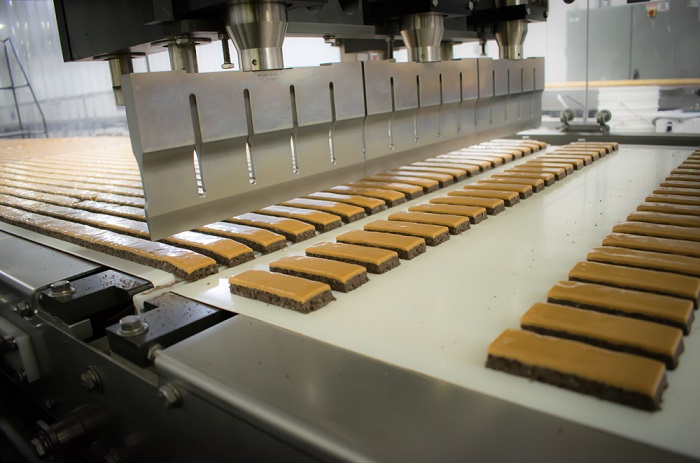 Key Projects Started in 2021
Nutri-Nation Broadway
Nutri-Nation Functional Food is a locally-owned and family-operated contract manufacturer of nutritional food bars. In need of expanded production for their growing business, Nutri-Nation reengaged Wales McLelland to build their second high-quality food manufacturing site, a 50,000 SF facility in Port Coquitlam. To date, we've completed pre-construction and development services, including site consultation, permit approval, facility design, and site pre-loading.
Once complete, Nutri-Nation will have renewed production and warehousing capacity along with four (4) loading docks. Additional space for offices, cold and hot rooms, and wash areas will fit the business for future growth.
Chilliwack City Hall Expansion
Wales McLelland collaborated with the City of Chilliwack, as part of their prequalification process, and has been awarded their city hall expansion project. With a design-build delivery model, we will be constructing a new three (3) storey office addition adjacent to the existing city hall structure. We've enjoyed collaborating with the City of Chilliwack on this project and look forward to the progress we'll make in 2022.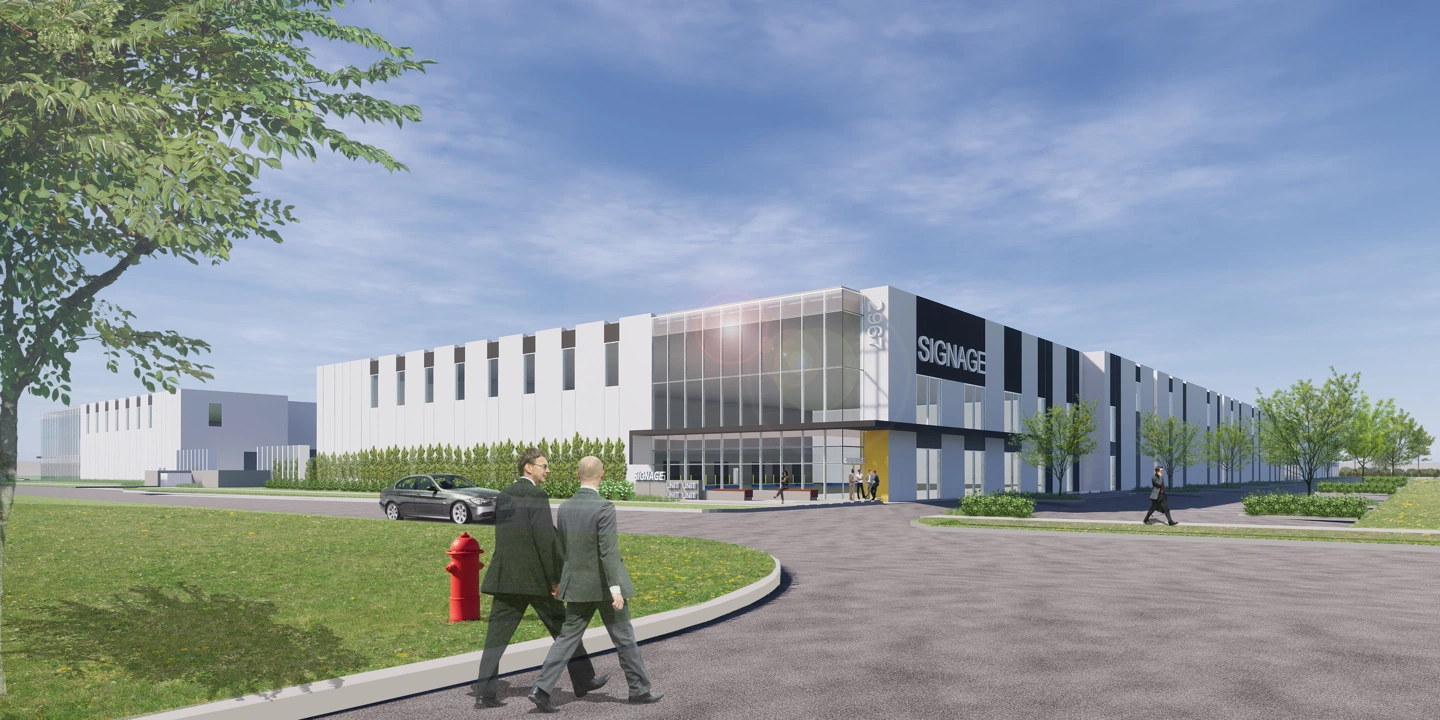 188th Street Industrial Centre
Wales McLelland is working on behalf of Bentall Green Oak to build a new, state-of-the-art industrial centre in Surrey, BC. This industrial complex will be comprised of two (2) large format distribution buildings totaling 360,000 SF and will feature 79 dock doors, 10 grade doors, 32-foot clear ceilings, a 180-foot truck court, and an end-of-trip facility. This project is targeting LEED certification through sustainable building practices, including high-efficiency HVAC and enhanced stormwater management.
Xchange Business Park
This 140-acre master-planned business park is ideally situated adjacent to the Trans Canada Highway in Abbotsford, BC. Since 2018, Wales McLelland has been providing pre-construction services, including development planning and re-zoning, along with de-risking activities such as critical constructability, budgeting, scheduling, and site preparation. We have provided design support throughout these phases as part of our fully-integrated consultation approach.
This past year has seen a lot of progression on our site-preparation program, including important environmental habitat works, in order to prepare for vertical construction. We're excited to progress further in 2022 and anticipate the first of eight (8) Class A industrial buildings to be completed during Q4 of this year.
Our Outlook for 2022
We're Seeing a Growth in Pre-Construction & Development Services
The demand for the services our Pre-Construction & Development Services team provides has continued to increase given the challenging site conditions often faced by developers of industrial land. We are engaged during the due diligence stage, where we solve problems related to risks, development timeline, cost, net use, approvals, and potential impacts of the site. Our construction management experience and in-house capabilities enable Wales McLelland to act as a "second set of eyes" for our seasoned developer clients or to facilitate a due diligence program on behalf of private businesses looking to acquire a land asset for development.
We are pleased to have helped several clients acquire new properties in 2021 and progress confidently through the design and permitting process. It's our aim for 2022 to continue to empower growing businesses with the support and guidance they need to achieve their property development goals.
We're Seeing an Increased Demand for Stacked Industrial Buildings
Representing a solution to a market problem in Metro Vancouver, Stacked Industrial buildings are multi-tenant, multi-storied, strata-developed commercial spaces that can be occupied by multiple light-impact industrial and office use businesses. Requiring specialized zoning approvals and permitting processes, Stacked Industrial buildings require careful pre-construction and development services, including due diligence, value engineering, and constructability analysis.
This is still an evolving and changing market but with low-interest rates, a push for businesses to be closer to their customer base, the scarcity of developable industrial land, and near-zero vacancies in Metro Vancouver, the demand for Stacked Industrial appear to be staying strong. In 2022, our team will be providing construction services for Alliance Partners' unique, two-building stacked industrial project in Richmond, BC. These buildings will consist of 65 units of flex strata, large mezzanines, green rooftops, and solar panel rough-ins.
Our Development Team is available to connect with new and repeat clients looking to understand this new, specialized industrial zoning and how it differs from traditional industrial-zoned construction.
We're Seeing an Increased Trend in Green Technology
We are always exploring new construction methods that will help our clients meet their sustainability goals. As experienced leaders in tilt-up construction, we work closely with our concrete suppliers to understand how the industry is evolving to reduce greenhouse gas emissions without compromising performance. We are also utilizing precast concrete panels on certain projects where the cost-benefit analysis versus tilt-up makes sense. We will also continue to explore using mass timber as an alternative construction method, both in Stacked Industrial and office buildings, as well as traditional warehouse construction.
We're Working with Our Repeat Clients in Other Jurisdictions
With the demand for light-industrial and warehousing construction in secondary markets outside of Metro Vancouver, Wales McLelland is partnering with repeat clients in different regional markets across BC and Alberta to continue building upon our shared experience and track record of success. Of particular note, we will be working with Andrew Sheret Limited once again in 2022, after successfully completing their flagship Vancouver facility, to manage and oversee the construction of their new, state-of-the-art industrial warehouse in Lethbridge, Alberta.
We're Still Growing and Looking to Add Talent to Our Industry-Leading Team
Throughout our 50 years in construction, the one element that has remained constant has been our ability to attract and retain top talent. Particularly with the complexity and increased demand of commercial, industrial, and institutional spaces, the need to add skilled workers to the Wales McLelland team will continue to play a significant role in the success and sustainability of our company in 2022 and beyond.
To learn more about how you can advance your career in the construction industry in an inclusive, supportive, and respectful work environment, visit our list of active job postings to join the Wales McLelland team.