What are Stacked Industrial Buildings?
Stacked industrial buildings are multi-tenant, multi-storied, strata-developed commercial spaces that can be occupied by a combination of light-impact production, distribution, and repair type businesses in non-industrial zones. Whereas traditional industrial buildings are typically single-storey, large-scale warehouses that are optimized for heavy-impact operations in industrial-zoned land in the outskirts of major city centres, stacked industrial buildings occupy a more compact footprint for light-duty machinery, which allows them to be built in urban, commercially-zoned areas.
Stacked industrial buildings represent a solution to a market problem in Vancouver, BC.

Within Vancouver, light industrial businesses – which can include manufacturing and distribution for businesses in the food and beverage, apparel, and building materials industries, as well as servicing and repair for automotive, appliance, and other equipment-based businesses – are facing a decreasing supply of available industrial land, in addition to already high land values and low vacancy rates. This poses a major challenge for local businesses who require 5,000 to 20,000 square feet of industrial-zoned space in close proximity to their customer base.
Stacked industrial buildings offer these small-to-medium sized, light industrial businesses the ability to vertically subdivide a low-rise or mid-rise commercially-zoned building into multi-tenant, flexible workspaces. These buildings are intentionally designed so that each tenant receives their own high-ceiling warehouse space on the ground floor, with private office and boardroom space accessible on the floors above. This concept of stacking the office space above the industrial workspace is where the term 'stacked industrial' is derived from.
How is the Construction of a Stacked Industrial Building Managed?
There are many different factors a construction manager must consider when leading a stacked industrial building project, with many details needing to be defined early in the pre-construction stage. At Wales McLelland, we leverage our pre-construction and construction management experience in industrial and commercial buildings with our trade relationships to ensure an efficient and code-compliant construction process.
Our earliest involvement in a stacked industrial project has been in performing due diligence throughout the site acquisition stage. This includes reviewing all environmental and geo-technical encumbrances on the land, in addition to understanding the zoning approvals and permitting processes in order to achieve the highest and best use for the site.
Through our extensive value engineering and constructability analysis services, we consider the different costs and timelines associated with grading challenges, underground parking additions, electrical and HVAC requirements, and building envelope materials, collaborating with municipalities, engineering consultants, and approval authorities to help design the most efficient site layout.
With many stacked industrial buildings being developed near high-traffic and high-density urban areas, the planning and logistics involved in the construction phase is also critical to address early in the pre-construction process. This includes reviewing where to position cranes, when to coordinate the arrival of building materials, and how to maintain traffic flow, all within tight construction sites in heavily populated areas.
What are the Design Considerations for Stacked Industrial Buildings?
The most important consideration in the design, layout, and finishing for stacked industrial buildings is how to optimize the space for tenant fit-out flexibility.
As stacked industrial buildings are intended for multi-tenant use within a wide range of light-impact production, distribution, and repair type industries, it's critical to design a building that will attract and accommodate a variety of business operations. This requires a deep understanding of how to specify, design, and install highly specialized infrastructure, which includes electrical, plumbing, HVAC, communications, and security systems.
At Wales McLelland, we are fortunate to be able to leverage our experience in automotive dealership construction into how we design stacked industrial buildings. Within this niche building category, we've earned industry-leading recognition in our ability to combine operational service and distribution spaces with functional office and boardroom spaces, all completed with high-end exterior and interior finishes.
We have also met the specialized manufacturing, distribution, and warehousing needs for cold storage and food production facilities, as well as the complex data centre requirements for e-commerce and last-mile delivery operations. This ensures we understand the power and code requirements for a wide range of the technical instrumentation that a tenant may require within their ground-level industrial space.
For the office spaces that occupy the higher floors of a stacked industrial building, we intentionally design these as shell spaces. This helps ensure maximum flexibility for potential tenants to fit-out the office space in a way that is personalized to meet their specific needs.
In recent years, the WM team has completed a large number of tenant improvement fit-outs to accommodate a wide variety of functional office use, including private offices, open workspaces, boardrooms, lunchrooms, and lounge areas, all upfitted with energy-efficient lighting and state-of-the-art audiovisual capabilities. This experience helps us understand the way office work is evolving, with an emphasis on comfortable spaces for employees to work together efficiently, to promote team building and collaboration with a variety of supportive workplace amenities.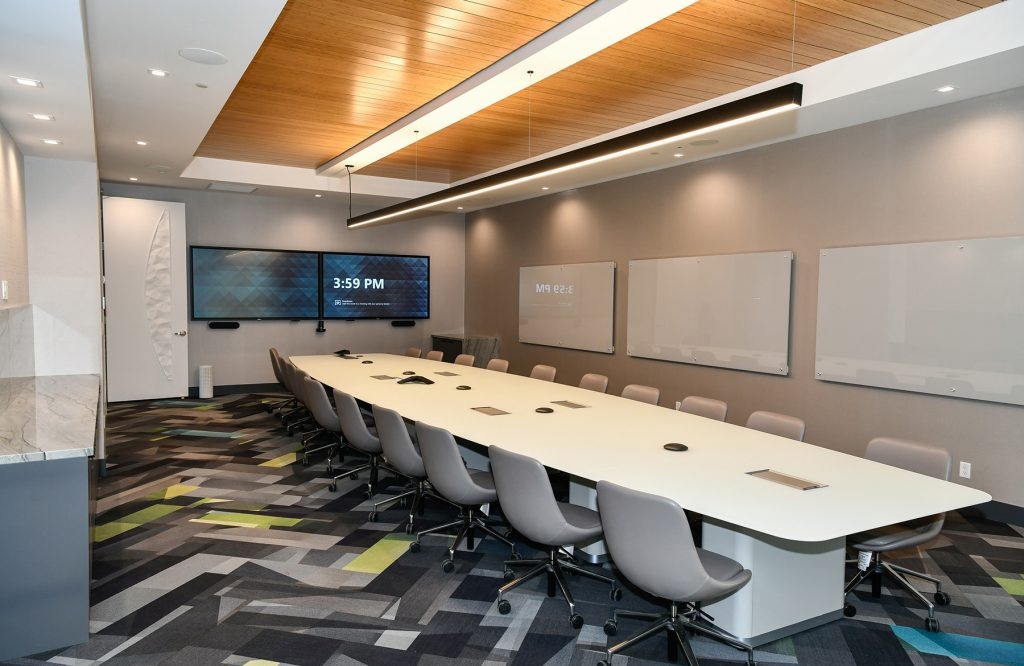 Completing stacked industrial buildings that are designed efficiently and with the flexibility to attract and accommodate a wide range of light-impact production, distribution, and repair businesses is a specialization that Wales McLelland is uniquely set up to deliver. By partnering with developers early in the pre-construction stage, we're able to provide the due diligence, value engineering, and constructability analysis required to manage the construction of profitable stacked industrial buildings.

If you are a developer looking to partner with an experienced construction manager for a stacked industrial building early in the due diligence and pre-construction stages, please reach out and connect with us.