Institutional buildings are purposeful spaces that allow municipalities to govern, educate, serve, support, and enrich the lives of their residents at the local community level. As every institutional structure is unique based on the needs, goals, and diversity of each geographic market, we leverage over 50 years of construction management experience to coordinate, collaborate, and participate with a full range of private and public stakeholders. This ensures we complete projects on schedule and on budget, with a lasting and positive impact on the community.
Our approach to this sector incorporates due diligence, sustainable design, and efficient construction management, partnering with our clients from the early concept stages to support their vision while identifying all project goals. Whether we are building for new construction, renovations, or additions, we assemble an experienced team with proven delivery methods for every institutional project we complete.
Throughout our due diligence and pre-construction phases, we incorporate evidence-based design to support the long-term functionality of the facility, justifying all design elements to improve operational efficiency and achieve all business goals. This includes optimizing floor plans for flow and useability, creating positive experiences for the staff and operational teams who manage the facilities, in addition to the people and communities who benefit from the public spaces.
A recent example of how we leveraged our due diligence process to accommodate a wide range of institutional-facility operations is evident in the design of the IRCD Retreat and Conference Centre; a modern venue for retreats, seminars, and workshops, in the forested Britannia Range setting on the North Shore Mountains.
This facility includes a large commercial kitchen, common dining and living spaces, classrooms, recreational and fitness areas, a chapel, a library, and 28 en-suite guest bedrooms, in addition to service quarters for staff, with a gate house for a full-time caretaker in a separate building. This allows guests to stay for extended periods of time in a remote and secluded area, surrounded by all the comforts and amenities they expect.
A recent recreational facility project that we provided comprehensive due diligence throughout the pre-construction phase is an indoor soccer training facility for Coastal Football Club. Purpose-built for high performance, we installed 33,000 square feet of FIFA-approved 3G artificial turf, increasing the programming capacity to meet local demand with a durable material that meets international standards.
We also work with our institutional partners to improve the long-term resource-efficiency, health, and resilience of their facilities through our experience with innovative sustainable design solutions, helping them achieve their LEED (Leadership in Energy and Environmental Design) Building Certification, corporate social responsibility, and sustainability goals.
Recent institutional projects that incorporate sustainable design to achieve LEED Certification include four of the six regional facilities for the BC Government Employees Union, including a LEED Gold Certified head office building in Langley, BC.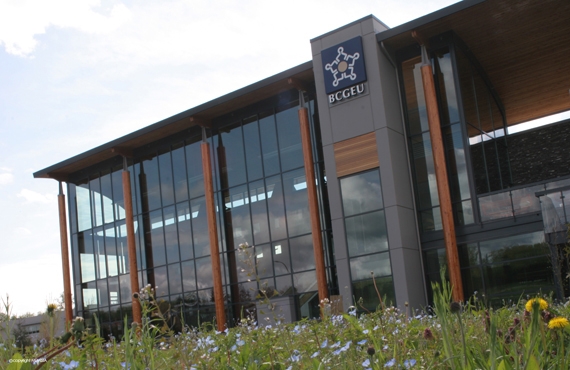 To achieve these sustainability goals, we included many design features including exposed wood planking, acoustical ceiling treatments, expansive curtain walls, below-grade dampproofing, glass pendant and energy-efficient lighting, cedar cladding to soffit areas, composite metal panels, and many other interior and exterior finishes.
Other projects, which include the Point Grey Golf and Country Club, integrate form and aesthetics into the sustainable design of the buildings, incorporating innovative and high-performance building materials into the layout and structure. This includes using mass timber beams and engineered wood decking to reflect the tree-lined fairways of the course, with a glass canopy and curtain wall to take advantage of the natural light setting. The result is a modern, stylish recreational facility that meets both the customers' expectations and the client's sustainability goals.
Another important element to consider for institutional development is the safe and efficient construction management required for expansions, renovations, and upgrades, ensuring ongoing facility operations are not disrupted or delayed, and that the public maintains safe, reliable, and convenient access at all times throughout the construction phase.
Recent examples of efficient construction management include renovated and additional spaces for the College of the Rockies, the construction of an advanced long-term storage facility at UBC Library PARC, the addition of a new lacrosse and basketball building to the Langley Events Centre, and the demolition and replacement of a pro shop at the Point Grey Golf and Country Club.
Each of these builds incorporated significant planning throughout the pre-construction and construction phases to ensure vehicular and foot traffic were not impeded, that the active construction sites maintained the highest standards of safety and security, and that the daily operation of the facilities were not negatively impacted – while maintaining all key milestone and project delivery schedules.
Working on purposeful institutional developments that combine creativity and functionality early in the pre-construction stage is what Wales McLelland specializes in. From building owners to board members and public officials, Wales has earned a reputation as a collaborative building partner that incorporates due diligence, sustainable design, and efficient construction methods into every institutional project we complete.

If you have an institutional facility that you would like to incorporate due diligence, sustainable design, and efficient construction methods throughout the pre-construction and design-build stages, please reach out and connect with us.